Who Are We at Los Angeles Eviction Attorney?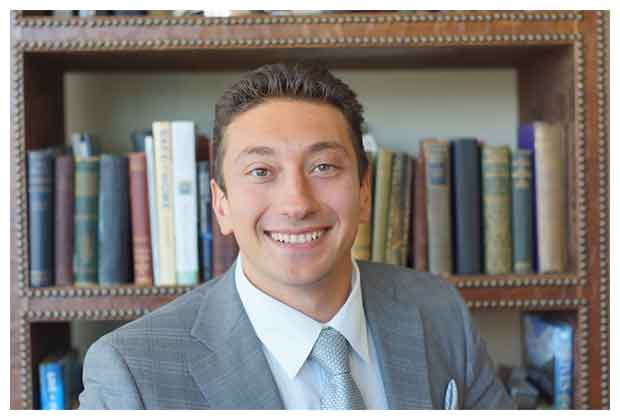 Yan Goldshteyn has been advocating for client rights even before being licensed in 2010. After graduating from Western State College of Law, he worked for a prominent Los Angeles firm defending corporations and their directors, officers and professionals in securities class actions, SEC enforcement proceedings, insurance claims, as well as mergers and acquisitions litigation. Yan has been recognized as a SuperLawyer in Southern California (a rating service of outstanding lawyers from more than 70 practice areas who have attained highest recognition among peers) as a top rated lawyer for Business and Corporate law since 2016. Mr. Goldshteyn's accomplishments also reflect in his leadership roles among various professional organizations including, but not limited to, being the Ex-Officio President, Beverly Hills Bar Association's Barristers, serving as an active member on the Board of Governors, Beverly Hills Bar Association, Chair of the Immigration Section of the Beverly Hills Bar Association, Co-Chair of the Diverse Business Affiliations Committee and Executive Committee member to the Beverly Hills Bar Foundation Board.  While on the Barristers' Board of Governors for the Beverly Hills Bar Association, he was a speaker and moderated a series of continuing legal education programs, asked to present on immigration topics amongst colleagues, consulted troubled clients at the Roxbury Park Legal Clinic, served meals at Samoshel Homeless Shelter in Santa Monica, California and taught elementary school children tolerance through education. In addition, Beverly Hills Bar Association has bestowed upon Mr. Goldshteyn the "President's Award" for dedicated service in 2017-2018 Annual Installation and Awards Dinner at the Four Season's Hotel. Mr. Goldshteyn supported Public Counsel's Consumer Law Project by fighting for justice on behalf of indigent victims who have fallen prey to consumer fraud and abuse. He treats every case with care and dedicates inordinate amount of time and effort to fight for justice on behalf of each client.
Bar Admissions
California State Bar
U.S. District Court Central District of California
Immigration Courts (EOIR)
Board of Immigration Appeals
Education
Western State College of Law, Irvine, California J.D.
California State University, Los Angeles, California B.A.

Major: Business Administration with a minor in Economics
Honors & Awards
Beverly Hills Bar Association Barristers' Lawrence J. Blake Award, 2017
Beverly Hills Bar Association Board of Governor's Award, 2016
Professional Associations & Memberships
Beverly Hills Bar Association Barristers, Past President
Beverly Hills Bar Association,, Barristers' Board of Governors
Beverly Hills Bar Association, Board of Governors
Committee on Empowering Women of the Beverly Hills Bar Association
Beverly Hills Bar Foundation Board
Beverly Hills Bar Foundation Scholarship Donor Committee
Immigration Section of the Beverly Hills Bar Association
Los Angeles County Bar Association
American Bar Association
Diverse Business Affiliations (DBA)
Consumer Attorneys Association of Los Angeles (CAALA)
Los Angeles Eviction Attorney is a landlord-tenant law firm helping clients navigate eviction disputes in the greater Los Angeles area and throughout Southern California. Whether you're a landlord who needs to evict a tenant or a renter who's facing eviction, we have the knowledge and experience to solve your case. We are fearless advocates who love what they do and that's why our firm primarily practices landlord-tenant law. The lawyers at Los Angeles Eviction Attorney take pride in being able to solve even the most complex eviction problems landlords and tenants confront. Our dedication to communication, effective case handling, timely case conclusion, and affordable representation inform our unique approach to litigation and working within a budget. Los Angeles Eviction Attorney has significant experience handling all aspects of eviction cases, including 3-Day Notices, 30-Notices, Deed in Lieu of Foreclosure Agreements, 90-Day Tenant Post-Foreclosure Notices, and Unlawful Detainer Lawsuits. We provide service that is responsive, professional, and results-oriented.
Experienced Los Angeles Eviction Attorneys Offering Personalized Legal Services
We at Los Angeles Eviction Attorney have decades of experience litigating eviction cases. We have successfully settled eviction cases in private mediation and have also tried cases in court. We leverage our litigation acumen to our experience and unique view of legal disputes. We understand that no two cases are alike and that's why we strive to deliver individualized strategies in the most effective and efficient manner. At Los Angeles Eviction Attorney, you're not just another number and as such, we devote our time and energy in providing you with personalized attention that only the best eviction law firm in Los Angeles can provide. We're constantly developing unique strategies to help us obtain the most favorable outcomes for our clients. We keep ourselves up to date with legal trends and couple our experience with cutting-edge technology in order to offer high-quality services.
Our focus is singular- landlord-tenant eviction law. This means that when you retain our services, our team of experienced litigation lawyers will provide a depth of expertise in eviction matters that we believe is unmatched. We're not generalists handling every other area of law; we have a real focus.
From when you get in touch with our law firm, we'll give you a comprehensive assessment of what needs to be done in your case. So, if your case is going to be a tough one or if you do not need an attorney, we'll let you know. Unlike other law firms that are focused on maximizing billable hours, the Los Angeles Eviction Attorney law firm was founded out of our team's quest to maintain the highest commitment to practical and effective advocacy.
Once retained, we will assign your case to a single attorney and not a paralegal or some unknown attorney. You'll be advised of the pros and cons of various legal strategies and tactics, including what our attorneys believe is the best course of action. We work with you and stay in contact as your case progresses. We do not use a cookie-cutter approach and you can rest assured that we'll handle your case based on the specific issues and the applicable law.  Over the years of our practice, we've developed a reputation for unparalleled legal counsel and tenacious representation.
The Los Angeles Eviction Attorney Difference
The first and foremost priority of Los Angeles Eviction Attorney is customer satisfaction. We work hard for our clients and strive to obtain the desired results while maintaining the highest level of professional service. In your first consultation with one of our eviction attorneys, you will know that our clients matter and that we have in-depth knowledge of landlord-tenant law. We keep you abreast of all your case proceedings and when you contact us, we strive to always pick your call or return the call the same day if we're busy. We'll efficiently scan and email every document that we receive or send in your case. When you have any comments, questions, or concerns, we're always ready to address those in a timely manner
Aggressive Legal Representation
When litigating a case, whether for a defendant or for a plaintiff, we strive to get the facts quickly and prepare the required paperwork, and get ready for the case proceedings as well as trial. We're efficient in our representation and do not drag our feet or keep up with the delay from the opposing side. And while delay may be beneficial in some cases, we're always aggressive in standing up for the rights of our clients and pushing the case forward to win or dismiss lawsuits. That's what we do.
We provide our clients with candid advice, allowing them to make informed decisions. Regardless of what the dispute or the case is about, eviction due to lease violation or failure to pay rent is a critical matter for both landlords and tenants and that's why we give attention to detail and prepare the case comprehensively. We're dedicated and determined to seek amicable solutions through dispute resolutions and informal negotiation tactics. And while most eviction cases are resolved out of the court, we prepare our cases as if going to trial and never hesitate to protect our clients' rights and interests in the courtroom, when necessary.
While results cannot always be guaranteed, we understand that you want to get positive outcomes and nothing less. We pride ourselves in our well-researched briefs. In every case that we handle, no one will out research us, outwork us, or be better prepared for the case than our team. We're aggressive litigators in pursuit of great outcomes for our clients. When it comes to eviction matters, we know time is for the essence for both landlords and tenants so we handle every aspect of the case as quickly as we can to ensure no opportunity is lost. During the initial consultation, we'll conduct a thorough client interview so as to know what your goals are, make sure that no potential strategy is overlooked, and we'll do whatever is necessary to achieve those goals. The proof is in our track record and client satisfaction.
From the less complex cases to the most rigorous and complicated matters, we're equipped and dedicated to bringing our knowledge, professionalism, integrity, and experience to bear for our clients in every case that we handle.
Disclaimer that the website is only an advertising platform and not a law firm or legal entity.
 Attorney is not a lawyer-referral service, pre-paid legal plan, legal-services organization or advertising cooperative. The Attorney Directory is not endorsed, approved or recommended by any State bar association. Attorneys pay a fee to be listed in the Attorney Directory.  
The decision to hire or engage the services of an attorney should not be based only on the information contained in this advertisement. Any decision regarding which attorney to engage should be based on an independent investigation of all facts and circumstances that you deem relevant in making the decision.  attorneys that appear on the screen in response to your search does not identify every attorney authorized to practice law in the practice area or ZIP code you select.  Attorney makes no representation that attorneys listed at the top are superior to the other attorneys listed.  
The listed attorney is not employed or screened by Los Angeles Eviction Attorney. The fact that an attorney is listed in Los Angeles Eviction Attorney is not intended to imply and should not be interpreted to mean that such attorney is more capable or more qualified than any attorney.  The information is provided to the general public and is not intended to be directed at any specific legal issue. The information provided is not a substitute for legal advice from a licensed attorney. We recommend that you consult with an attorney if you want assurances that the information provided is appropriate for your particular situation. 
This website and its contents are offered for informational, promotional purposes only and is not legal advice. Information on this website may be incomplete or out of date. No representations, testimonials, or endorsements on this web site constitute a guarantee, warranty, or prediction regarding the outcome of any legal matter.